SNP Prep Cicaronic Daily Mask
Die SNP Prep Cicaronic Daily Mask beruhigt empfindliche Haut und kann jeden Tag in Ergänzung zur üblichen Skincare-Routine als intensive Feuchtigkeitspflege verwendet werden. Tigergras, Panthenol und Allantoin wirken wundheilend und entzündungshemmend, sodass Rötungen reduziert werden. Zudem sorgen die Antioxidantien im Japanischen Goldfaden und Magnolien Extrakt (Schizandra Chinensis Fruit Extract) für einen strahlenden Teint. Zusätzlich spenden Grüntee und Hyaluron der Haut viel Feuchtigkeit und lassen sie gesund und prall aussehen. 
Back to the Basics - Zurück zu den Grundlagen. In diesem Sinne konzentriert sich die SNP Prep Linie auf wesentliche Inhaltsstoffe wie Hyaluronsäure, Peptide und Tigergras. SNP Prep steht für einfache und qualitative Kosmetik zu besonders attraktiven Preisen. Die Produkte werden von SD Biotechnologies, einer der führenden Firmen für Hautpflege in Asien, entwickelt.
Cicaronic = Centella Asiatica + Hyaluronic Acid
Dank des patentierten Cica-Trio Komplexes, der drei verschiedene Auszüge aus Tigergras kombiniert, hat die Cicaronic Linie eine besonders beruhigende und entzündungshemmende Wirkung auf die Haut. Zudem versorgen die drei Arten der Hyaluronsäure mit ihren unterschiedlichen Molekülgrößen die einzelnen Hautschichten mit viel Feuchtigkeit. Hyaluronsäure kann das bis zu 1000 fache ihres Eigengewichts an Feuchtigkeit speichern und ist ein natürlicher Bestandteil unseres Körpers. Während hochmolekulare Hyaluronsäure Feuchtigkeitsverlust innerhalb der Epidermis verhindert, dringt niedermolekulare Hyaluronsäure bis in tiefe Hautschichten ein und sorgt für mehr Elastizität und ein glattes Hautbild.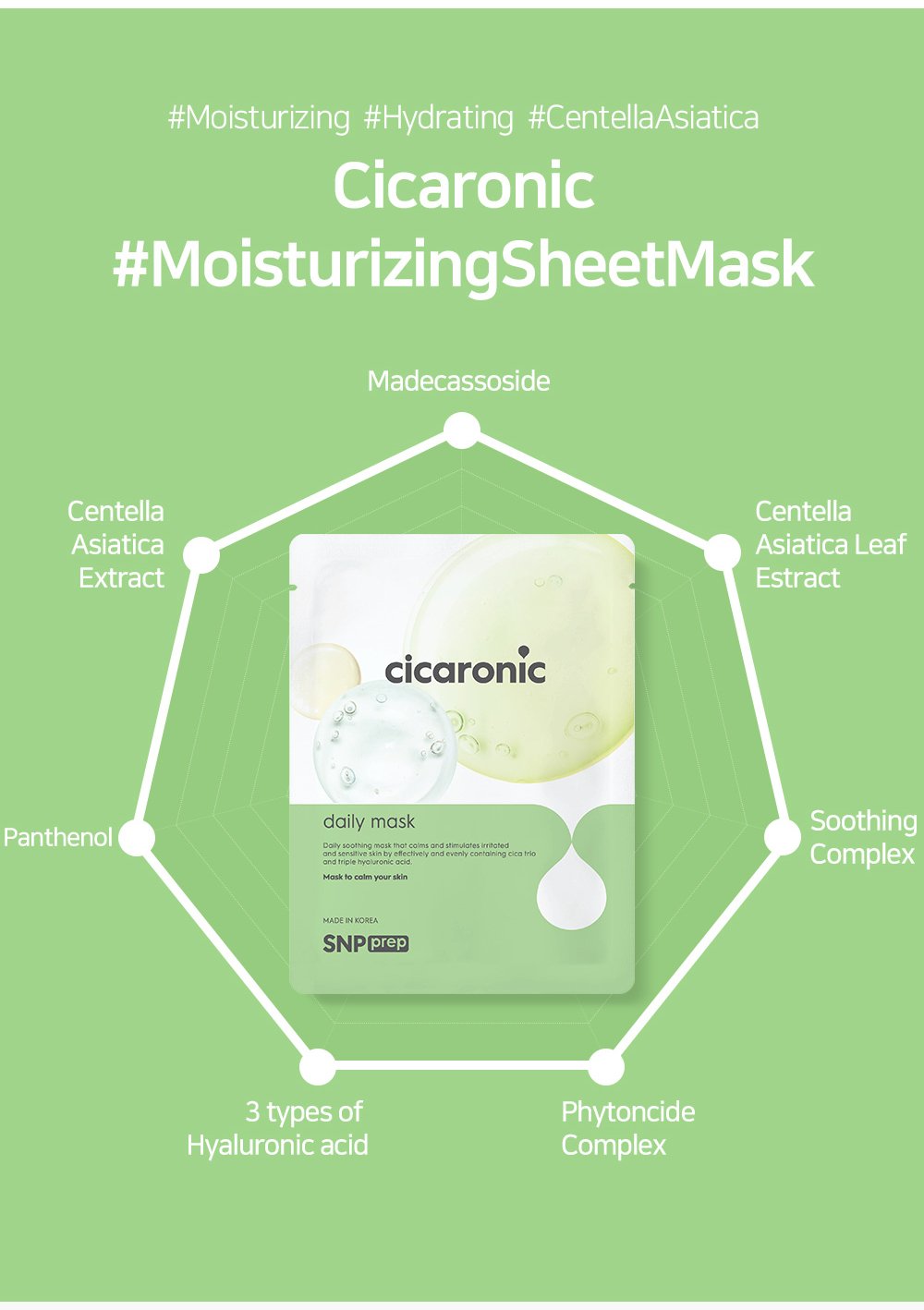 Cica-Trio Komplex
Centella Asiatica Leaf Extract
Centella Asiatica Extract
Madecassoside
Hyaluron Komplex
Sodium Hyaluronate
Hyaluronic Acid
Hydrolyzed Hyaluronic Acid
Anwendungsreihenfolge der SNP Prep Cicaronic Produkte: Toning Essence > Tuchmaske > Ampoule > Soothing Cream